This week's challenge was set by Mini Owner and she challenged us

whip up a page

using these ingredients

, for 5 points each ...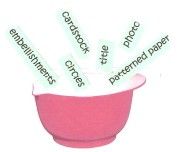 I have used a template by Dawn Inskip called Photo Emphasis Volume 8 and also one of her digital kits called Backyard Fun.
I used 1 patterned paper, 2 photos, 3 circles, 4 colours of cardstock, 5 words in my title, and 6 embellishments (leaf, flower, button, photo clip, ribbon, fabric tag).